Boat Propeller Repair & Shafting Repairs
Tacoma Propeller are Boat Propeller Repair Experts – With Over 50 Years Experience.
Tacoma Propeller's machine shop specialize in boat propeller repair, boat prop shafting repairs and straightening offering a huge selection of new and used props and parts. Our National Marine Propeller Association certified propeller repair facility is state of the art – over 40,000 square feet of space with stock in the propeller related goods you need for your boat.
At Tacoma Propeller our shop can handle any type of propeller repair job; sterndrive / outboard, inboard or ski boat and wake boat propellers. We can also perform boat shaft straightening, coupling fits, boring, keying, bearing replacement and more. Our Tacoma Washington store offers an extensive on shelf inventory of new outboard / sterndrive, ski wheel and inboard propellers serving the Pacific Northwest, West Coast and the Nation. Mail in your propeller repair or bring it by our Tacoma Propeller repair shop.
Contact Us For Propeller Repair Services
Do you have a specific propeller repair question? Great give us a call we are experts and are here to help. Want to do a drop off? Excellent. Contact us for our repair drop off locations.
Address: 2601 East "F" Street, Tacoma, WA. USA 98421-2017
Phone Number: 253-272-5065
Toll Free Call: 800-446-9733
Fax: 253-572-4421
Email: sales@tacomapropeller.com
Propeller Repair Request Forms
The Best Boat Propeller Repair Shop
Our Propeller Technician has been on staff for over 25 years, working on:
Outboard Propellers and Sterndrive Propellers
Ski Boat and Wake Boat Propellers
Inboard Boat Propellers
Propeller Modifications including adding cup, venting, re-pitching blades, changing hubs, and more
Lower Unit Repair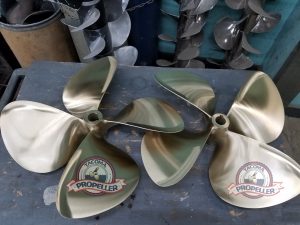 One of our Machinists has been with us for 20 years, and we brought on a new machinist this year. Our skilled in house machine shop can handle:
Boat shaft straightening
Boat shaft coupling fit and face
New boat shafting
Stern bearing replacement
Propeller boring and keying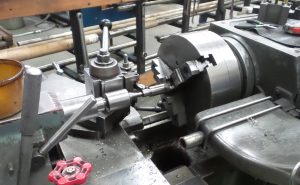 Your Boat Propeller Experts
Tacoma Propeller specializes in finding you the right propeller for your boat at the right price. We are distributors of only the highest quality boat parts available and sell direct to the public at discounted prices.
Our whole crew is dedicated to providing you the highest quality boat propeller repair services, boat shafting repairs and boat parts in the nation. Tacoma Propeller is committed to high quality repairs and parts, flexible services and competitive pricing. We look forward to helping you stay on the water to enjoy boating year in and year out.
Tour Our Propeller Repair and Machine Shops