A Taste of Tacoma Propeller History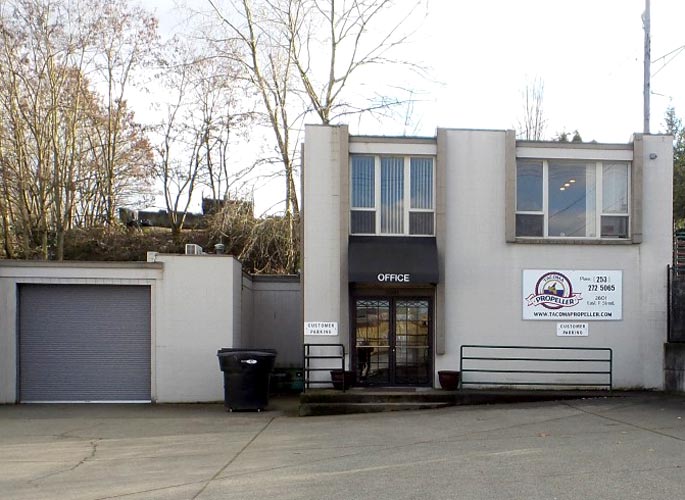 Tacoma Propeller – A Rich History Since 1954
This family-owned and operated propeller repair company has roots in the late 1800s when J.A. Sproule built our first location on the corner of Pacific and Jefferson. The first business he operated there was Cow Butter Store, which boasted smart prices for quality eastern butter, and other goods like coffee. 
Sproule's son-in-law, machinist Barney Wright, originally opened Western Wright Marine under the name F.B Wright, building marine engines on the Commerce Street side of the building through the 1940s, while other businesses including a butcher shop operated on Pacific. 
Barney's son Edward joined the business after completing Industrial Management at the University of Washington in 1953.  In the 60s Ed brought propellers into the machine shop after meeting the folks at Michigan Propeller, a propeller line we have proudly distributed ever since. The butcher shop was eventually replaced with Barney's Marine Museum. Over time, Western Wright Marine would grow to utilize the full building space, hiring on new machinists and propeller repair technicians. Barney's Marine Museum was eventually replaced with propeller stock warehousing.
In 1989, Kruger and Son's -another family propeller business specializing in larger inboard propellers and IPS drives- of Seattle merged with Western Wright Marine, which continued to operate in downtown Tacoma until 2000. At the turn of the century, Western Wright Marine transitioned into Tacoma Propeller as the crew moved into their new 40,000 sf location near the Tacoma Dome where we are still operating today. 
The Tacoma Propeller crew has continued to grow, with a strong sense of family. Our Machinist and Propeller Technician have each been with us for over twenty years. Barney Wright's grandson is here with three generations of propeller knowledge under his belt. Tacoma Propeller joined the National Marine Propeller Association the year it formed in 1992, and has received Technical Certifications through the organization. As our product line and team have grown and changed over the years, our mission has remained offering friendly service and professional work from our knowledgable staff, and good values for our customers.